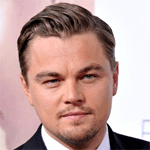 Leonardo DiCaprio is an American actor and film producer. Since the 2000s, Leonardo DiCaprio has been nominated for awards for his work in such films as Catch Me If You Can, Gangs of New York, The Aviator, Blood Diamond, The Departed, and Revolutionary Road. His latest films Shutter Island and Inception rank among the biggest commercial successes of his career.
---
Bubble Yum commercial with young Leonardo DiCaprio in 1988

---
A clothing commercial featuring a teenage Leonardo DiCaprio

---
Leonardo DiCaprio old Honda Japanese commercial

---
Suzuki – Wagon R with Leonardo DiCaprio Japanese commercial

---
Leonardo DiCaprio – TOYOTA Commercial
http://www.youtube.com/watch?v=AqKBpB8jTqg
---
OPPO Mobile: Leonardo DiCaprio "Find Me" Advertising Campaign
Leonardo DiCaprio – famous for his roles in Inception, Shutter Island, Titanic, The Departed and numerous other blockbuster films, he has put his name to a new product for the Chinese market. The product is the OPPO Find smartphone. According to reports, Leonardo DiCaprio was paid a staggering $5 million to feature in the commercials.
---
---
Related Posts