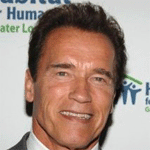 Arnold Schwarzenegger is an Austrian-American former professional bodybuilder, model, actor, director, businessman and politician who served as the 38th Governor of California (2003–2011). Schwarzenegger gained worldwide fame as a Hollywood action film icon. Best known for movies : Conan the Barbarian, Terminator, Predator, Terminator 2: Judgment Day.
---
Arnold Schwarzenegger in an early bodybuilding ad from his early days. The woman he is holding is the wife of Joe Weider – Betty Weider.

---
Weider print ad with Arnold Schwarzenegger, star of the movie: Conan The Barbarian.

---
Collection of 30 commercials for Japan with Arnold Schwarzenegger. It only gets better so watch the whole thing.
Related Posts